Bacon Jam
Smokeadelic Deviled Eggs 0
Evilo's own take on a classic recipe!
Ingredients
Cooking Spray
12 Eggs
1/3 cup Mayo
1 tbsp. Italian Lambrusco Red Wine Vinegar 
2 tsp. yellow mustard
2 turns Maine Sea Salt and Pepper
3 tsp. Chives
2 tbsp. Dill Relish
2 tbsp. Black Peppercorn Bacon Jam
Dash of Sambal Hot Sauce 
Bourbon Smoked Paprika for garnish

Directions
1.   Preheat your Egg to 300 degrees, convEGGtor in place. Spray your baking dish with cooking spray.
2.   Separate the egg whites from the egg yolks. Set aside the yolks. Whisk the egg whites until just foamy, transfer them to the baking dish and cover with foil. Cook for 20 minutes, or until whites have set. Let cool completely in the baking dish.
3.   Beat the yolks until smooth. Lightly coat a nonstick pan with cooking spray. Add the yolks and scramble until fully cooked and slightly dry.
4.   Transfer the yolks to a food processor. Add the mayo, Lambrusco, mustard, salt and pepper, bacon jam, dill relish, chives, and the hot sauce. Pulse until smooth. Transfer to a pastry bag.
5.   Turn the egg whites onto a cutting board and cut into 1 inch squares. Add a dollop of the filling and garnish with the smoked paprika and additional chives if desired.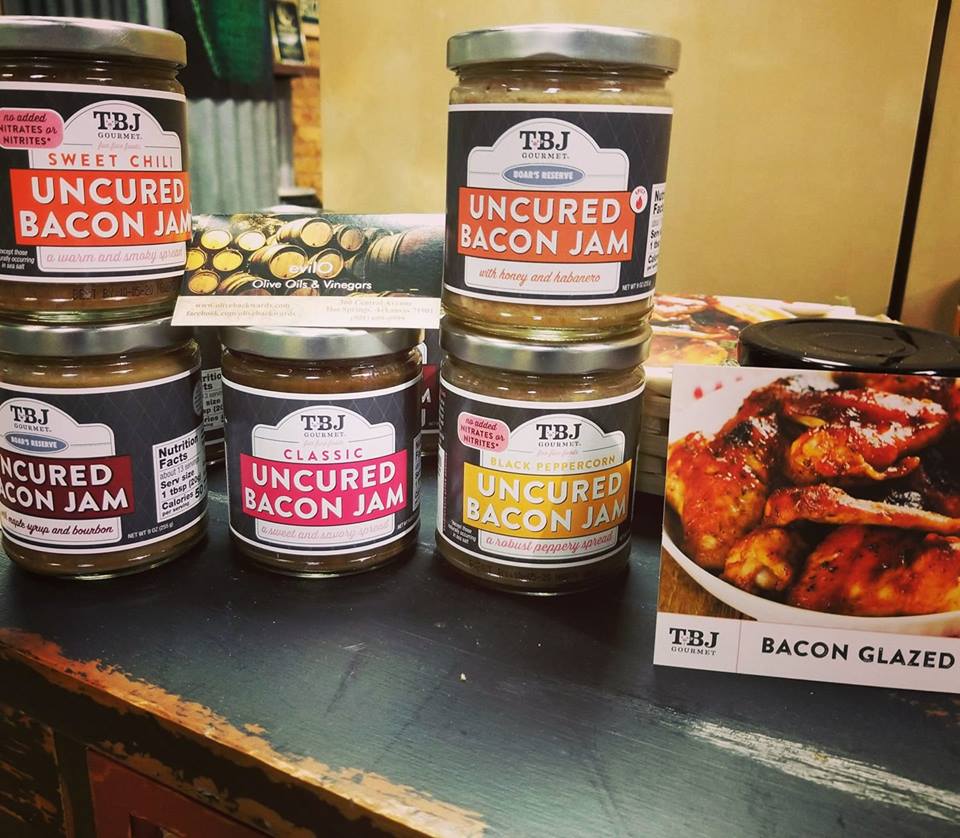 WHAM, BAM, BACON JAM! 0
Our homemade olive oil biscuits are the perfect vehicle for our new Bacon Jams!
Ingredients: 
2 cups all purpose flour 
1 tbsp. baking powder 
1/2 tsp. salt 
1/2 cup Scallion infused olive oil 
1 cup milk 
2-3 tbsp. of your Favorite Bacon Jam!
Directions: 
1. Heat your oven to 400 degrees.
2. Mix your dry ingredients together. 
3. Add the Scallion olive oil and mix until you have a sand-like texture. 
4. Stir in the milk and form a dough ball.
5. Lightly flour your cooking surface and roll out into a sheet, about 1 inch thick.
6. Cut out the biscuits and put on a baking sheet. 
7. Cook for 10 minutes, or until golden brown.
8. Remove from the oven, let cool slightly, serve, and ENJOY!
This recipe can also be made on the Big Green Egg!