Butter Olive Oil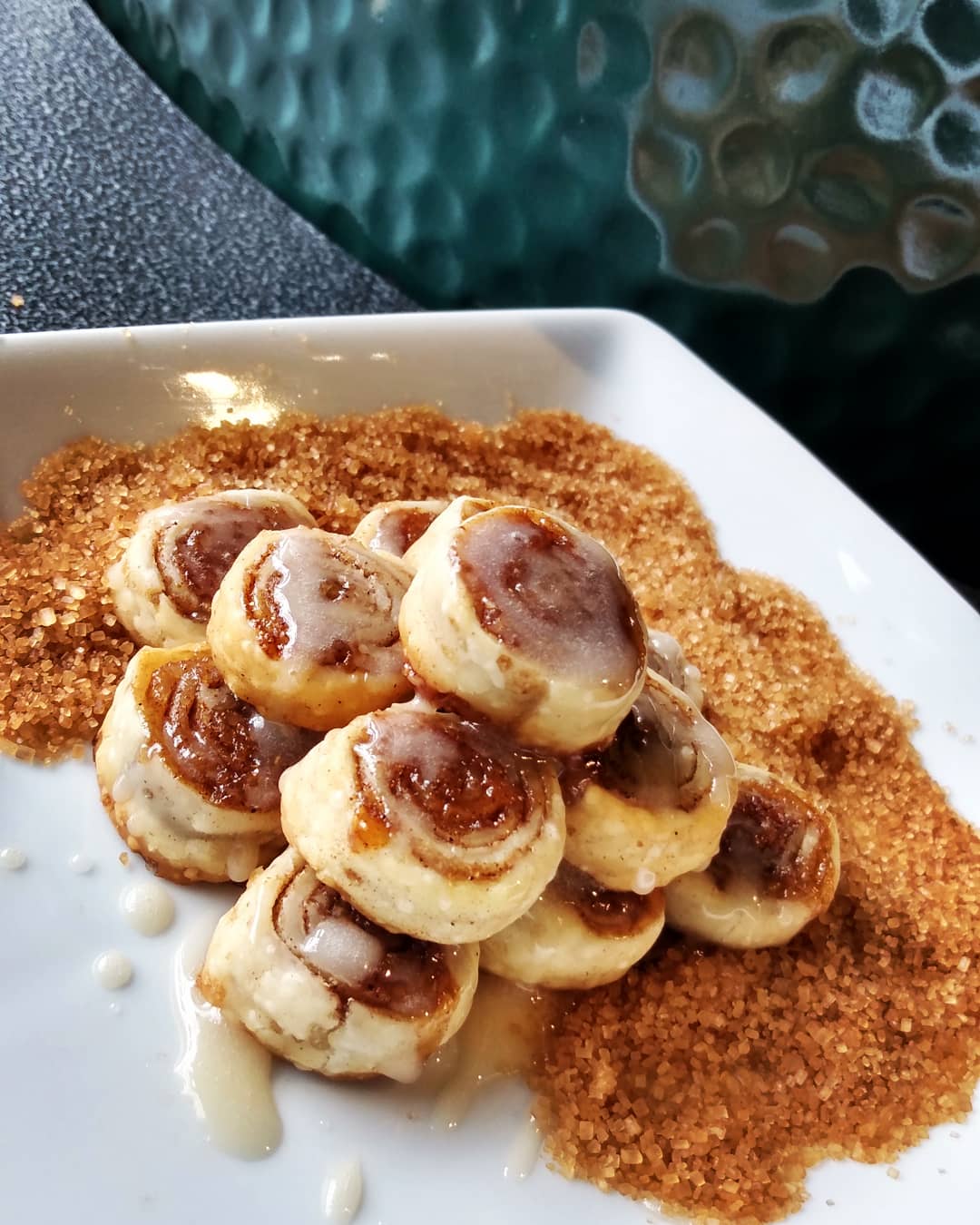 Cinny Minis! 0
Mini cinnamon roll cookies for the sweet tooth in us all!
Ingredients:
1 premade pie crust 
2 tbsp. Butter flavored olive oil 
3 tbsp. Bourbon smoked Sugar 
1/2 tsp. Baking Bliss 
1 cup powdered sugar 
1/2 tsp. Bourbon smoked Vanilla Extract 
1 tbsp. Milk 
Directions:
1. Preheat your oven to 350 degrees.
2. Roll out the pie crust into a rectangle shape. 
3. Brush the pie crust with the butter olive oil.
4. In a small bowl, combine the sugar with the Baking Bliss and sprinkle on top of the pie crust. 
5. Carefully roll the pie crust up with your fingers.
6. Slice the pie crust log into small discs and arrange on a parchment lined baking sheet. 
7. Bake for 12-15 minutes, or until golden brown.
8. In a separate bowl, combine the milk, vanilla extract, and the powdered sugar. Whisk until combined. 
9. Drizzle the icing over the tops of the cookies, serve, and ENJOY!
This recipe can also be made in the Big Green Egg!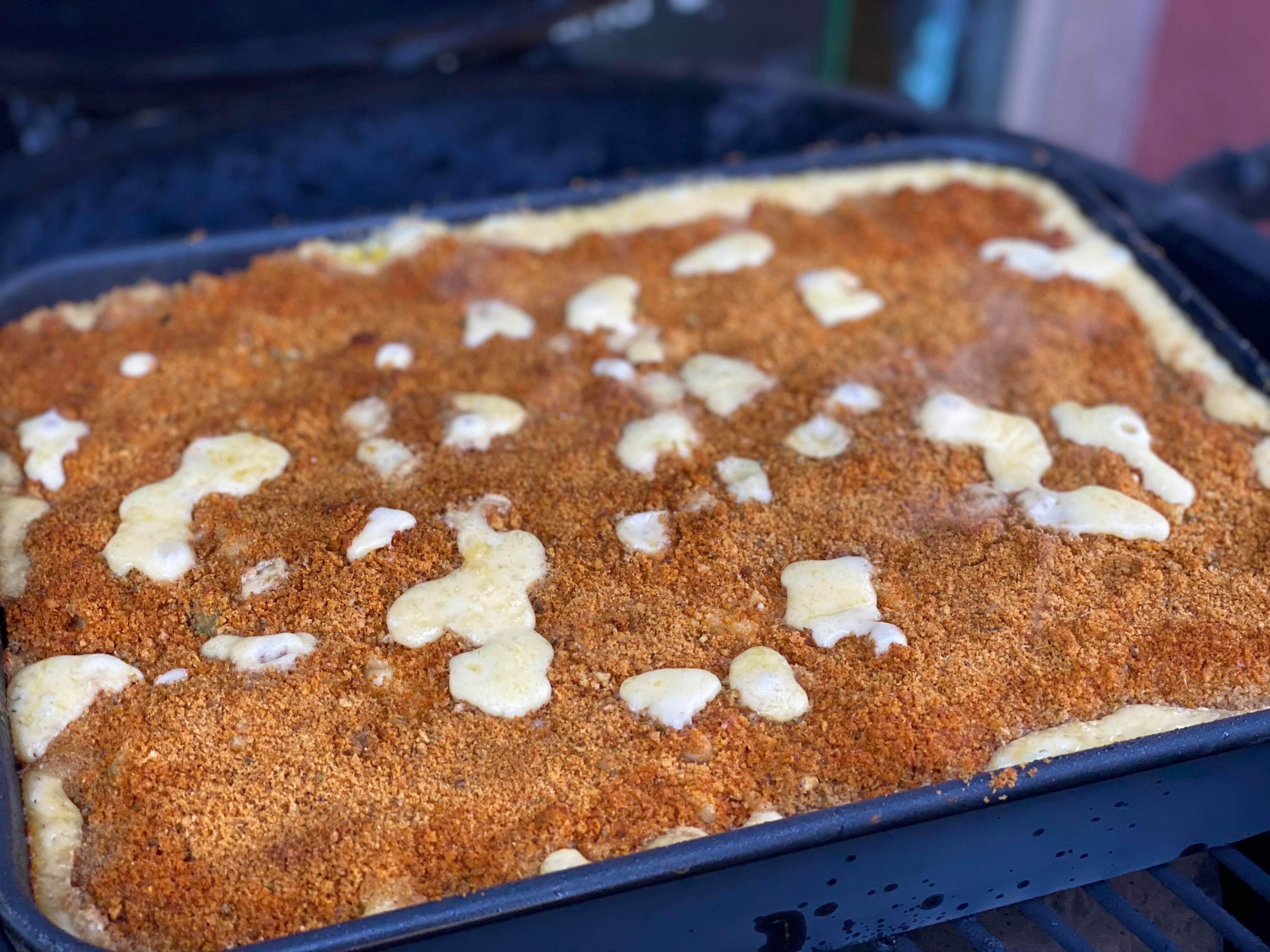 Smoked Truffle Mac & Cheese 0
Its You, Me, and Mac & Cheese!
Ingredients:
1lb. Rontini Pasta 
4 1/2 tbsp. Butter infused Olive Oil 
1/2 cup Flour 
5 1/2 cups Milk 
1/2 lb. block smoked Gouda cheese 
1/2 lb. block Cheddar cheese 
1/2 lb. block Havarti cheese 
1/2 cup Panko bread crumbs 
1 tbsp. Black Truffle infused Olive Oil 
1 tbsp. Bourbon Smoked Paprika 
1-2 cups Pecan Wood Chips, soaked 
Optional: 1 tsp. Truffle Sea Salt for added Truffle Flavor 
Directions:
1. Heat your Big Green Egg to 225 degrees, convEGGtor in place. Once heated to 225, add the Pecan chips and let sit until smoke is clear. 
2. On your stove top, bring a large pot of slightly salted water to a boil. Add the Rotini pasta and cook until done, but still firm. (about 8 minutes) Drain the pasta and place in a baking dish.
3. Place the baking dish directly on the grate of your Big Green Egg. Place a wire cooking rack on top of the baking dish, and place your 3 blocks of cheese directly on the cooling rack. 
4. Cook for an hour to an hour and a half, or until the cheese has completely melted into the pasta. 
5. On your stove top, whisk the Butter olive oil and flour together over medium heat. Once a thick paste has formed, slowly whisk in two cups of milk. Once smooth, raise heat to HIGH and whisk in the remaining milk. Whisk until thick and almost boiling. 
6. Take the milk mixture and pour it over the pasta and cheese and mix until incorporated. 
7. In a small bowl, mix together the Truffle olive oil, Paprika, and the Panko bread crumbs. Sprinkle the mixture over the top of the pasta.
8. Raise the temperature of your Big Green Egg to 350 degrees, the place the baking dish back on the grate. Cook about 30 minutes, or until golden and bubbly.
9. Let cool for about 10 minutes, then serve and enjoy!