Chipotle Marinated Garlic
Smokedelic Chili Baby! 0
A mouth-watering, smoked chili the whole family will love.
Ingredients:
2 lbs. ground beef 
3- 14.5 oz. cans of diced tomatoes 
1- 15.5 can of dark kidney beans 
1- 16oz. can of pinto beans 
1 large white onion, diced 
1 red bell pepper, diced 
1 green bell pepper, diced 
3 roasted red chilis, diced 
1 tsp. Fleur de Sel sea salt 
3/4 cups Italian Lambrusco Red Wine Vinegar 
3 cloves Chipotle marinated garlic, diced 
1 tbs. Garlic infused olive oil 
4 tbs. Blackened Seasoning 
2-3 Hickory smoking chunks 
Directions:
1. Fire up your Big Green Egg to 250 degrees. 
2. Once your Egg has reached 250 degrees, add your hickory smoking chunks and place your convEGGtor inside. 
3. Once your grill has reached 250 degrees with the convEGGtor in place, place your Dutch oven on your cooking grate. 
4. Add your garlic olive oil and onions to the dutch oven. Saute for 2-3 minutes, then add your bell peppers, roasted chilis, and your garlic cloves. 
5. Once the vegetables are soft, add salt and pepper to taste, then bring to a simmer. 
6. Add your Lambrusco vinegar, pinto beans, kidney beans, and diced tomatoes. Stir until combined. 
7. Knead the ground beef and blackened seasoning together, then roll into a large ball.
8. Place a perforated cooking grid on top of your dutch oven, then place your meatball in the center of your perforated cooking grid. 
9. Smoke at 250 degrees for about 3 hours, or until the meatball reaches 140 degrees internally. 
10. Remove the meatball and perforated cooking grid. Chop your meatball into small chunks, then add it to your dutch oven. Stir until combined. 
11. Smoke for an additional hour, stirring occasionally. 
12. Top your chili with shredded cheese or chives, serve, and ENJOY!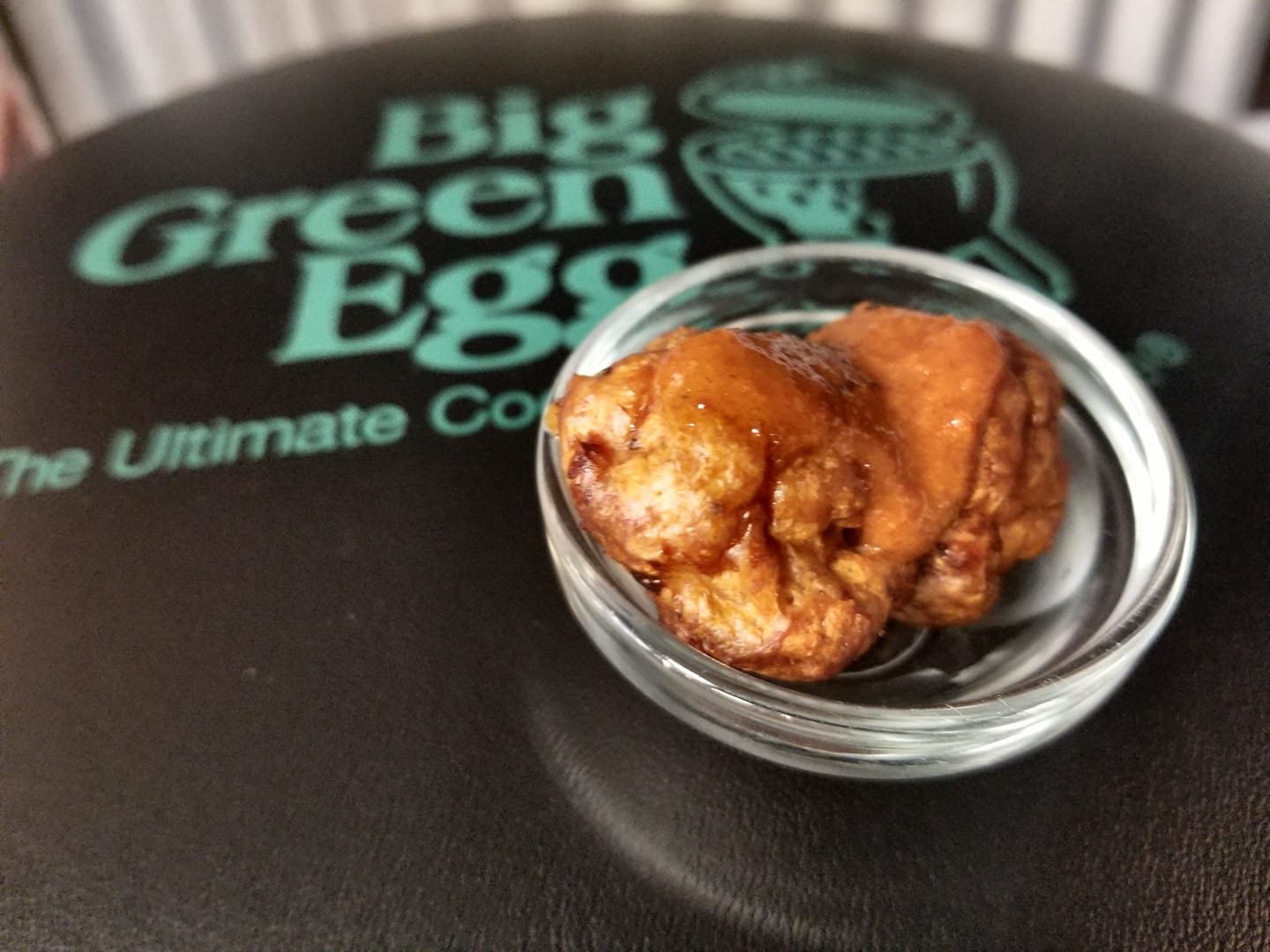 Smoked Buffalo Chicken Meatballs 0
Ingredients:
For The Buffalo Sauce:
8 oz. unsalted butter
2 tsp. Jalapeno and Garlic Seasoning
1 1/3 cup Crimson Reserve Hot Sauce
For The Meatballs:
1 1/4 lbs. Ground Chicken
1/4 cup Panko bread crumbs
1 large egg
1 tsp. Scallion Infused Olive Oil
2 tbsp. Crimson Seasoning
1/4 cup chopped celery
1/4 cup chopped carrots
2-3 cloves Chipotle Marinated Garlic, chopped
1/3 cup buffalo sauce
Prep Time: 30 minutes Makes 26 Meatballs
Directions:
1. Melt butter in a medium saucepan over medium-low heat until melted.
2. Remove pan from heat to prevent sauce from breaking.
3. Whisk in the Jalapeno and Garlic seasoning and the Crimson Reserve Hot Sauce until a cohesive sauce forms.
4. In a large bowl, combine the ground chicken, panko crumbs, the egg, Scallion Olive Oil, celery, carrots, and chopped garlic.
5. Add the 2 tablespoons of Crimson Seasoning. 
6. Using clean hands, mix until combined. 
7. Using an ice cream scoop, scoop meatballs (about 1/8 of a cup each) and roll into balls.
8. Set your Big Green Egg to 350 degrees, with the convEGGtor in place.
9. Place meatballs on the Egg and cook for 20- 25 minutes. 
10. Remove from the grill and brush with the buffalo sauce.
11. Serve immediately, top with Bleu cheese crumbles or dressing.