Spicy BBQ Rub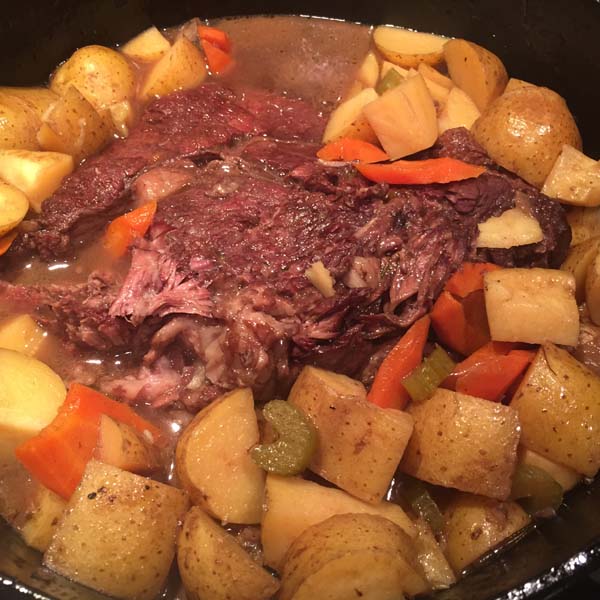 Easy, Braisey, Beautiful! 0
This Braised Pork Butt  is too good to be true!
Ingredients: 
1 pork butt (4-5 pounds) 
3-4 large baking potatoes (peeled and chunked) 
2 cups baby carrots 
3 tbsp. Tuscan Herb infused olive oil 
1 large yellow onion (peeled and cut into chunks) 
3 cloves Riesling Marinated Garlic (diced) 
2 tbsp. Spicy BBQ Rub 
1 bottle of Beer 
2 cups water 
1/2 cup Garlic infused Balsamic Vinegar 
Fleur De Sel Salt (to taste) 
Italian Cracked Black Pepper Blend (to taste) 
Directions:
1. Preheat your Big Green Egg to 300 degrees, ConvEGGtor in place.
2. Whisk your water and Garlic infused balsamic vinegar together in a saucepan over medium heat until just starting to boil.  
3. Season your pork butt on all sides with the Fleur De Sel salt and Italian Cracked Black Pepper Blend.
4. On your stove top, heat your Dutch oven to medium-high heat. 
5. Add the Tuscan Herb infused olive oil and the pork butt. Turn the pork butt every 3-5 minutes, browning it on all sides.
6. Remove the browned pork butt from the Dutch oven and sit aside. 
7. Add the Riesling Marinated Garlic, Spicy BBQ Rub, and a pinch of salt and cook until the onions have softened. 
8. Add the beer and deglaze the pan. 
9. Place the pork butt back in the Dutch oven with the chunked potatoes and baby carrots, along with the Garlic balsamic and water mixture. 
10. Place the top on the Dutch oven and put it in the Big Green Egg.
11. Braise the pork butt until tender, about 3 1/2 to 4 hours. 
12. Remove the Dutch oven from the Egg, serve and ENJOY!