olive oil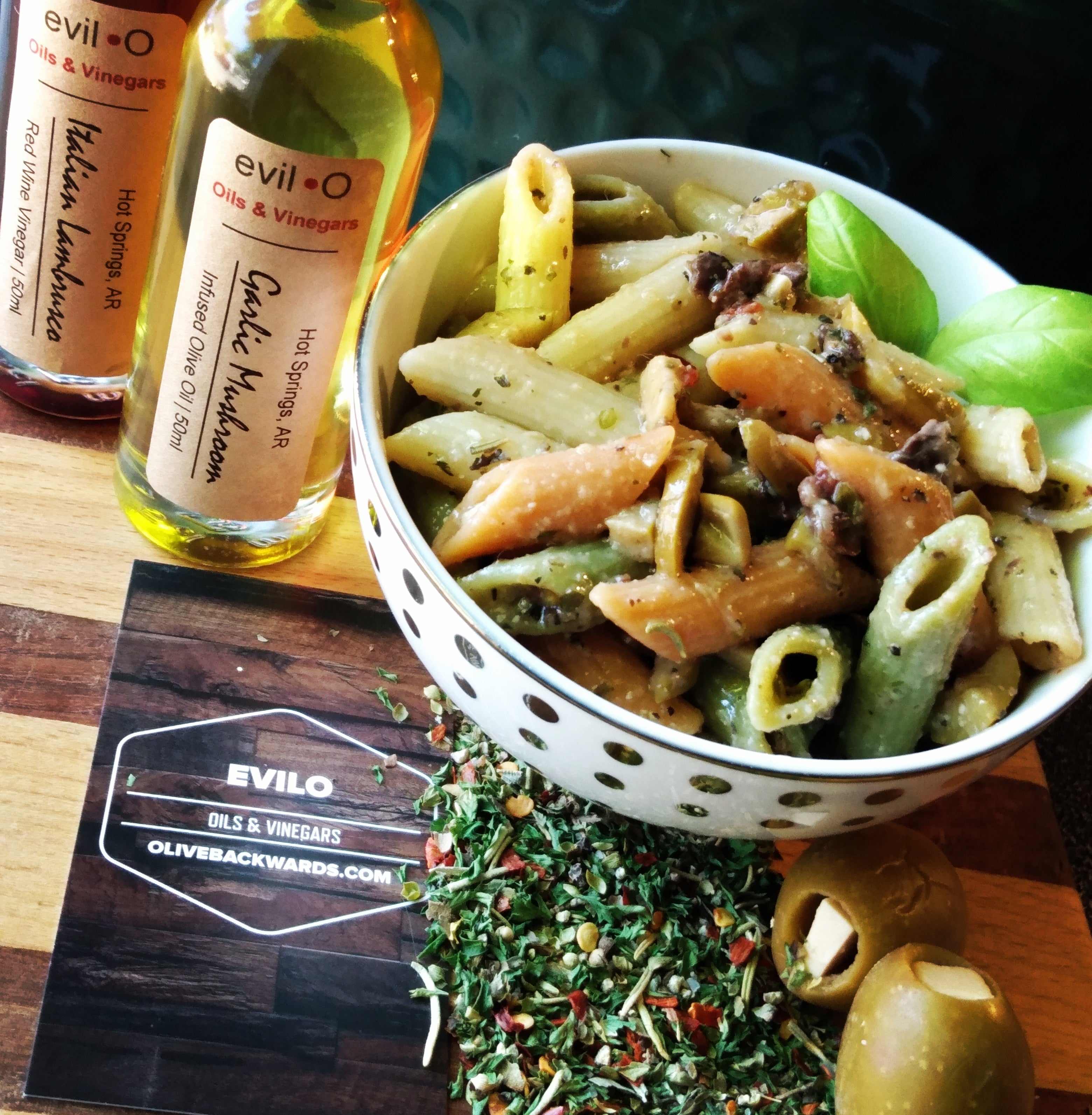 Springtime Pasta Salad 24
Ingredients:
1 (8oz. box) Tricolor Rotini Pasta 
1/2 cup Garlic Mushroom infused olive oil 
1/4 cup Italian Lambrusco red wine vinegar 
2 tbsp. Water 
2 tsp. Honey 
3-4 tbsp. Evilo Bread Dipper 
2 tbsp. Grated Parmesan Cheese 
1/2 cup Feta Cheese Stuffed Olives 
1 tbsp. Black Olive Tapanade 
Salt and Pepper to taste 
Directions:
1. Boil pasta in salted water according to directions on the box. 
2. In a large bowl, whisk together the olive oil, red wine vinegar, water, honey, bread Dipper, and parmesan cheese. 
3. Once pasta is done, transfer it to a large container with a lid. 
4. Pour the vinaigrette over the pasta. Add the chopped olives and Tapanade. 
5. Secure the lid tightly and toss the pasta until evenly coated. Add salt and pepper to your personal taste. 
6. Refrigerate for at least two hours for flavor to develope.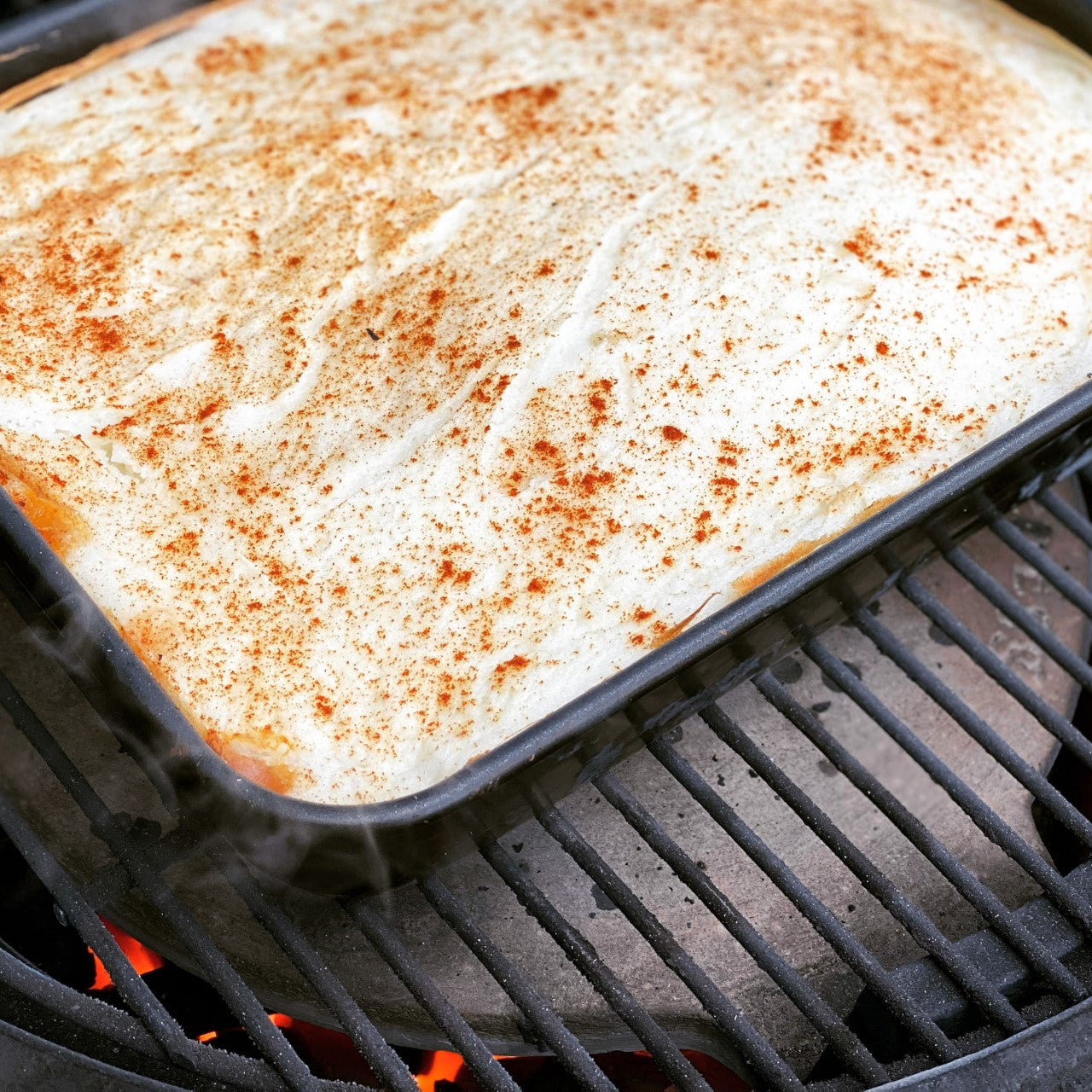 Smoked Shepherd's Pie 0
Gather your herd for this easy Shepherd's Pie!
Ingredients:
2 lbs. potatoes, peeled and quartered 
1/2 cup Milk 
1/4 cup butter 
2 tbsp. Artichoke & Garlic Olive Oil 
1 large onion, diced 
3 cloves Riesling Marinated Garlic, diced 
1 12oz. bag frozen vegetables 
1 1/2 lbs. ground beef 
1 cup beef broth 
1 1/2 tbsp. Tomato paste 
1 tbsp. Bourbon smoked Worcestershire sauce 
2 tsp. Rosemary Garlic bread dipper blend 
Directions: 
1. Place the potatoes in a pot of water. Bring the water to a boil and cook for 15- 20 minutes, or until potatoes are soft. Add the milk and butter and mash until creamy. 
2. Preheat your Big Green Egg to 400 degrees, convEGGtor in place. In a large pan, saute the onions and garlic with the olive oil for about a minute. Add the ground beef and cook until browned. 
3. Add the beef broth, tomato paste, Worcestershire sauce, Rosemary Garlic bread dipper, and frozen vegetables to the ground beef mixture. Fold to combine. 
4. Spread the ground beef mixture in a single layer in a baking pan. 
5. Dollop the mashed potatoes onto the meat mixture, then use a spoon to smooth it over the top. 
6. Place the baking dish inside the Big Green Egg. Cook for 25- 35 minutes, or until the top is golden brown.
7. Let cool slightly, serve, and ENJOY!
This recipe can also be prepared inside your oven! 
Health Benefits of Olive Oil 0
Unless you've been hiding out in the Bat Cave or stranded on a deserted island, you've probably heard that olive oil is good for you. But do you know how olive oil consumption benefits your health?

Olive oil has been studied extensively by researchers around the world, and its health benefits stem from its type of fat and its antioxidant content. The type of fat in olive oil is mainly monounsaturated fat. This type of fat is good for your heart and your cholesterol levels.

Olive oil also contains two beneficial antioxidants. Oleocanthal is an anti-inflammatory substance that works like ibuprofen, and oleuropein protects LDL-cholesterol (the "bad" cholesterol) against breaking down.

Studies have shown that regular intake of olive oil can provide benefits in the following areas:
​
Heart Health: According to a recent review study published in Pharmacological Research, regular olive oil intake decreases risk of high blood pressure, stroke, high cholesterol, and inflammation. Another study published in Neurology also found that regular intake of olive oil may prevent stroke in older people.
Type 2 Diabetes: A Spanish research study showed that a diet rich in monounsaturated fats (such as olive oil) reduces the risk of developing type 2 diabetes.
Breast Cancer: The antioxidant oleocanthal may protect against breast cancer, according to a Spanish study.
Depression: Regular intake of olive oil may help prevent development of depression in some individuals as reported in the medical journal PLOS ONE.
Alzheimer's Disease: A study conducted in mice found that olive oil has the "potential to reduce the risk of Alzheimer's Disease or related neurodegenerative dementias." More studies are needed to confirm these findings.

So how can you add olive oil to your diet? Try some of the following ideas:​

— Saute or roast vegetables with olive oil
— Make your own mayonnaise using olive oil
— Add it to salad dressings, pasta, and marinades
— Use it as a dip for bread with herbs, sea salt, and spices
— Drizzle it over popcorn