Sassy Italian Bread Dipper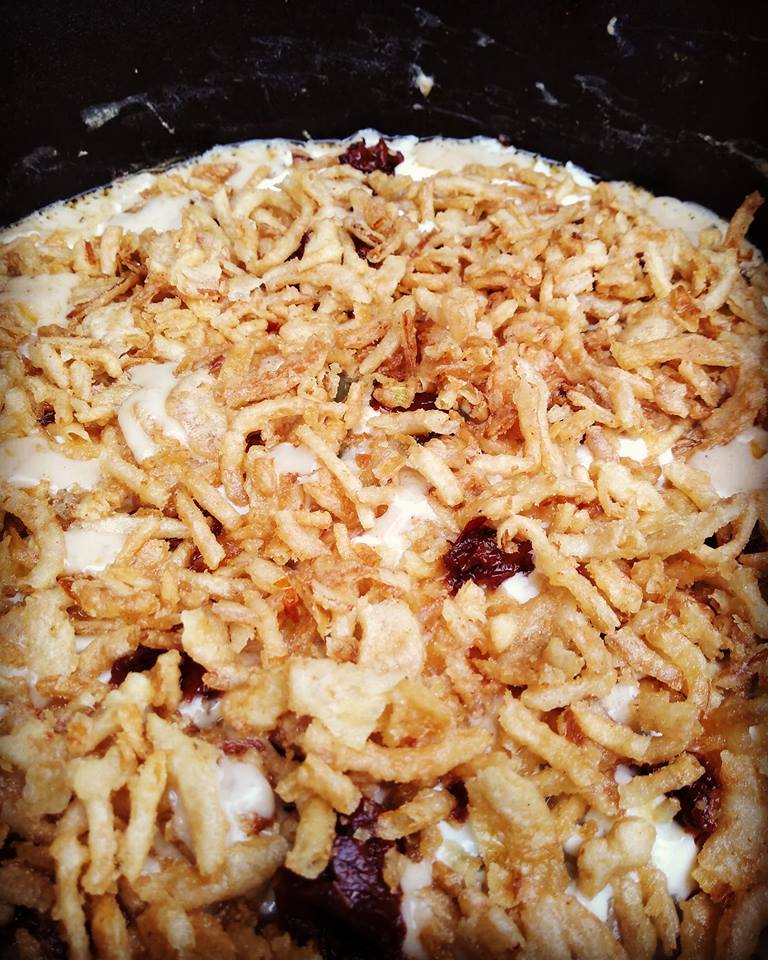 Green Beans Italiano! 0
We put an Italian spin on a classic recipe! 
Ingredients:
2 cans cream of mushroom soup 
1/2 cup freshly shredded mozzarella cheese 
1/4 tsp. Italian Cracked Black Pepper Blend 
4 cans green beans, drained 
1 cup Milk 
1/2 cup Sun-dried tomatoes in olive oil, chopped and patted dry 
2 tsp. Sassy Italian Bread Dipper 
2 2/3 cups fried onions 
Directions:
1. Set your oven to 350 degrees.
2. Mix both cans of soup, milk, 1/4 cup of mozzarella cheese, 6 tablespoons of sun-dried tomatoes, both seasonings, and 1 1/3 cups of the fried onions together. 
3. Pour the green beans in a cast iron dutch oven, and then pour your soup mixture over the green beans. Fold gently until combined.
4. Place the Dutch oven in the oven for 25 minutes, or until hot and bubbly. Stir the mixture. 
5. Sprinkle the top with the remaining fried onions, mozzarella cheese, and sun-dried tomatoes. 
6. Bake for an additional 5 minutes, or until cheese is melted and the onions are golden brown.
7. Let cool slightly, serve, and ENJOY!

This recipe can also be made on the Big Green Egg!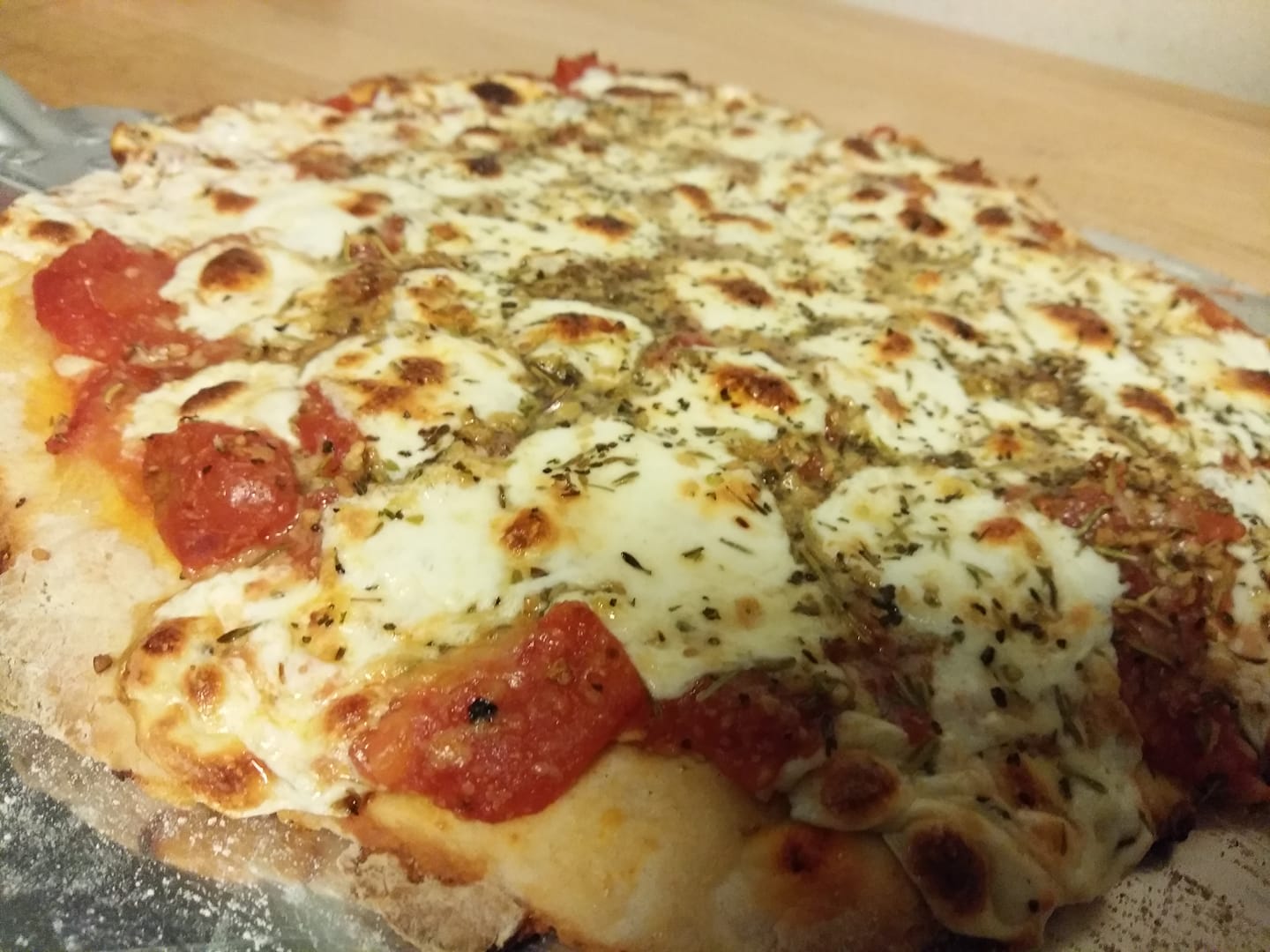 Mama Mia! 0
A quick and easy Margarita Pizza!
Ingredients: 
1 1/3 cup all purpose flour 
1 tsp. baking powder 
1/2 tsp. Fleur De Sel sea salt 
1/2 cup milk 
2 tbsp. Garlic infused olive oil 
1 cup crushed tomatoes 
2-3 cloves Riesling Marinated Garlic, minced 
1 1/2 tsp. Basil infused olive oil 
2-3 tbsp. grated Parmesan cheese 
7 oz. sliced fresh mozzarella cheese 
2-3 tbsp. Sassy Italian Bread Dipper 
2 tbsp. cornmeal 
Directions:
1. Mix the flour, baking powder, and salt together. 
2. Stir in the milk and the Garlic infused olive oil until a dough forms. 
3. Turn dough onto a lightly floured surface and knead 10 times. Shape the dough into a ball and let it rest for 10 minutes. 
4. Preheat your oven and pizza stone to 550 degrees. 
5. In a medium bowl, mix the tomatoes, minced garlic, 1 teaspoon of the Basil infused olive oil, and salt and pepper to taste. 
6. Sprinkle an aluminum pizza peel with the cornmeal. Gently roll your dough into a 10 to 12 inch circle and transfer to the pizza peel. 
7. Brush the dough with the remaining Basil infused olive oil. Using a large spoon, add the tomato mixture to the top of your dough, leaving about a 1/2 inch boarder around the edge. 
8. Sprinkle 1 tablespoon of parmesan cheese over the tomato mixture, then evenly lay out your mozzarella slices. Sprinkle the top with the Sassy Italian Bread Dipper. 
9. Gently slide the pizza from the pizza peel onto the baking stone. 
10. Bake for 7 to 8 minutes, or until cheese is melted and the edges are golden brown. 
11. Remove the pizza from the oven and transfer to a cutting board. An additional drizzle of Basil infused olive oil can be added if so desired. 
12. Sprinkle with additional parmesan cheese, slice, and ENJOY!
This recipe can also be made on the Big Green Egg! Just don't forget your ConvEGGtor! 
Flavors of the Week, 12/20 0
This week before Christmas, we are highlighting some of our staff's favorite combinations.  All 3 of these pairings make great gifts.
-- Smokey Garlic:  Another version of this delicious flavor combination.  This option features Smokey Hickory EVOO and Garlic Dark Balsamic Vinegar.  It is the perfect marinade for anything grilled or smoked.  A perennial favorite.
-- Strawberry Fields:  Combines Meyer Lemon EVOO and Strawberry White Balsamic Vinegar.  This combination tastes great as a light, fresh salad dressing or even in salsas or pico de gallo.  
-- Tuscan Herb and Sassy Italian:  Pour a little Tuscan Herb EVOO and sprinkle with the Sassy Italian Bread Dipper.  Serve this with some French bread for an appetizer at your holiday gatherings.  Your guests will love it.
We can package these in beautiful gift bags or baskets, and we can also help you design a custom gift too.  Stop by the shop this week!