Mama Mia!
Mama Mia!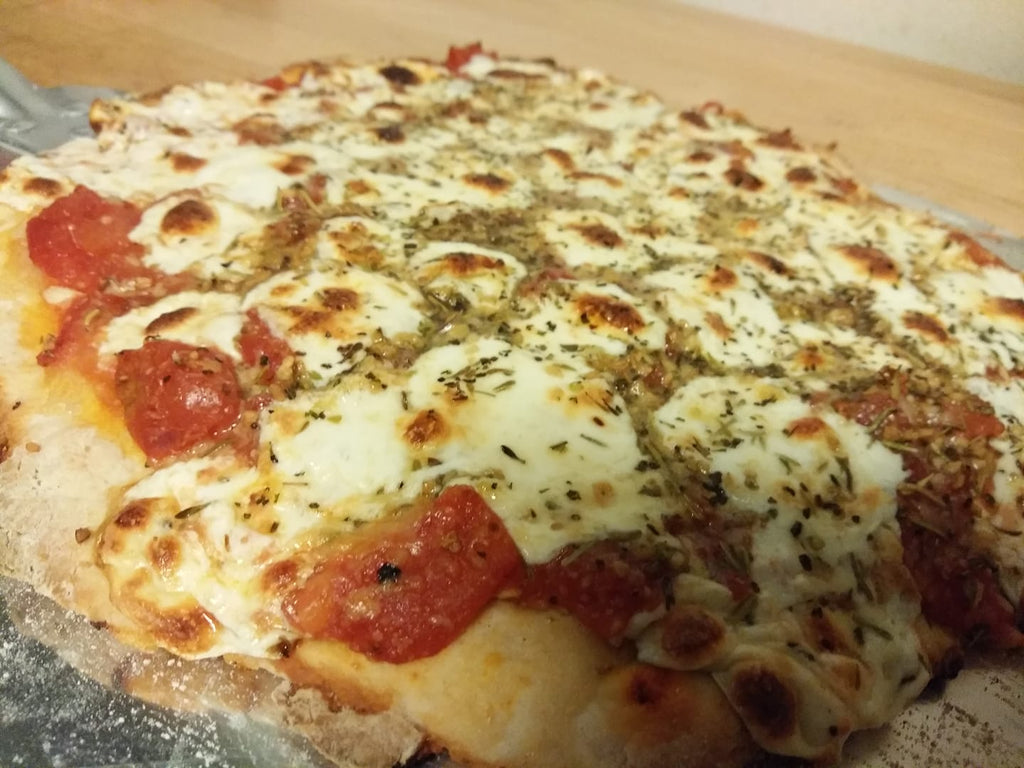 A quick and easy Margarita Pizza!
Ingredients: 
1 1/3 cup all purpose flour 
1 tsp. baking powder 
1/2 tsp. Fleur De Sel sea salt 
1/2 cup milk 
2 tbsp. Garlic infused olive oil 
1 cup crushed tomatoes 
2-3 cloves Riesling Marinated Garlic, minced 
1 1/2 tsp. Basil infused olive oil 
2-3 tbsp. grated Parmesan cheese 
7 oz. sliced fresh mozzarella cheese 
2-3 tbsp. Sassy Italian Bread Dipper 
2 tbsp. cornmeal 
Directions:
1. Mix the flour, baking powder, and salt together. 
2. Stir in the milk and the Garlic infused olive oil until a dough forms. 
3. Turn dough onto a lightly floured surface and knead 10 times. Shape the dough into a ball and let it rest for 10 minutes. 
4. Preheat your oven and pizza stone to 550 degrees. 
5. In a medium bowl, mix the tomatoes, minced garlic, 1 teaspoon of the Basil infused olive oil, and salt and pepper to taste. 
6. Sprinkle an aluminum pizza peel with the cornmeal. Gently roll your dough into a 10 to 12 inch circle and transfer to the pizza peel. 
7. Brush the dough with the remaining Basil infused olive oil. Using a large spoon, add the tomato mixture to the top of your dough, leaving about a 1/2 inch boarder around the edge. 
8. Sprinkle 1 tablespoon of parmesan cheese over the tomato mixture, then evenly lay out your mozzarella slices. Sprinkle the top with the Sassy Italian Bread Dipper. 
9. Gently slide the pizza from the pizza peel onto the baking stone. 
10. Bake for 7 to 8 minutes, or until cheese is melted and the edges are golden brown. 
11. Remove the pizza from the oven and transfer to a cutting board. An additional drizzle of Basil infused olive oil can be added if so desired. 
12. Sprinkle with additional parmesan cheese, slice, and ENJOY!
This recipe can also be made on the Big Green Egg! Just don't forget your ConvEGGtor!