Beerful Bliss!
Beerful Bliss!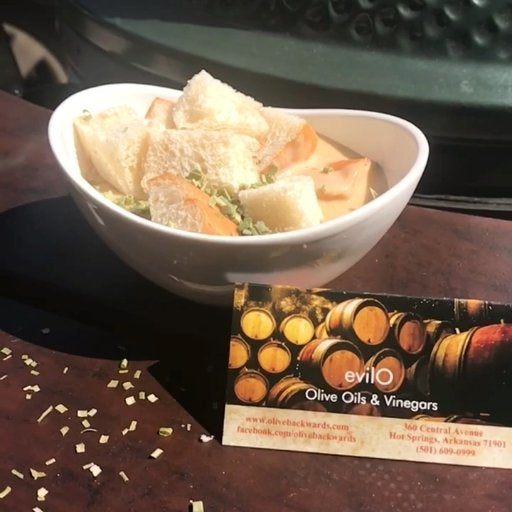 Our Irish Beer Cheese Soup will make any day your Lucky Day!
Ingredients:
2 tbsp. plus 1/3 cup Scallion infused olive oil 
1 yellow onion, diced 
3 celery stalks, diced 
3 cloves Riesling Marinated Garlic cloves, diced 
1/2 tsp. Fleur De Sel Sea Salt 
1/2 tsp. Italian Cracked Black Pepper Blend 
1/2 tsp. Crimson Seasoning 
1/3 cup Flour 
32 oz. chicken broth 
12 oz. Guinness Beer 
4 cups Milk 
1 to 1.5 lbs. Shredded Gouda Cheese 
2 tbsp. Dijon Mustard 
1 tbsp. Worcestershire Sauce 
Directions:
1. Preheat your Egg to 350 degrees, convEGGtor in place.
2. In a cast iron Dutch oven, heat 2 tbsp. of Scallion olive oil. Add the onions and celery and saute for 5 minutes. Add the diced garlic, salt, pepper, and Crimson seasoning and cook for 2-3 more minutes. Add the remaining Scallion olive oil, then sprinkle the flour over the mixture and stir to combine. 
3.While whisking, slowly add the chicken broth, then the beer, then the milk. 
4. Add the cheese slowly, whisking to combine.
5. Place the Dutch oven on the Egg for 20 minutes, stirring periodically. 
6. Add the Dijon mustard and the Worcestershire sauce and cook for an additional 2-3 minutes.
7. Remove the Dutch oven from the Egg.
8. Serve in a bread bowl or with croutons and ENJOY!
This recipe can also be made on the stove top!