Chrissy's Fantastic Fritters
Chrissy's Fantastic Fritters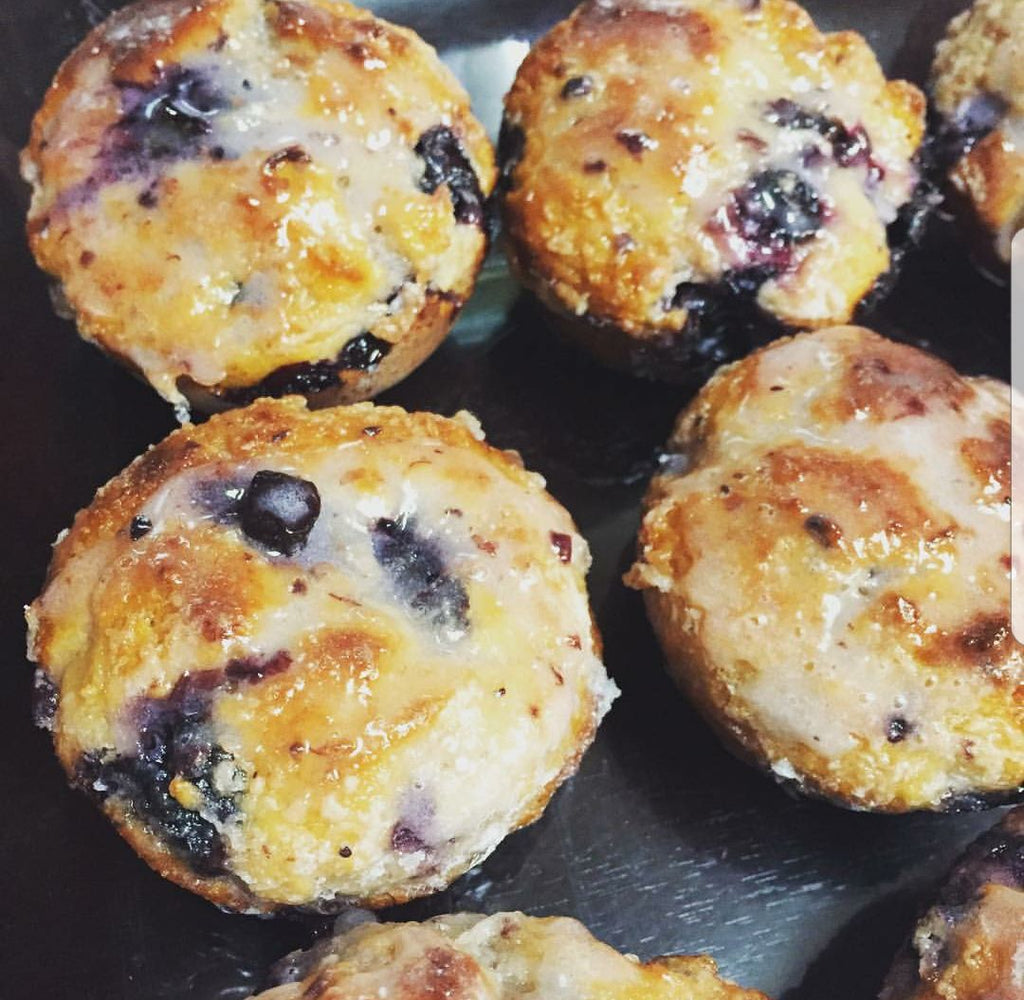 These lemon and blueberry fritters make the perfect addition to any get together! 
Ingredients: 
1 1/2 cups all purpose flour 
1/2 cups granulated sugar 
2 tsp. baking powder 
1/2 tsp. Fleur de Sel sea salt 
4 1/2 tbsp. Meyer Lemon infused olive oil 
1 large egg 
1 tsp. vanilla extract 
2 (5.3 oz.) containers of Blueberry greek yogurt 
1 cup fresh (or frozen) blueberries 
Ingredients for Glaze:
2 cups powdered sugar 
1/3 cup milk 
2 tsp. blueberry jam or blueberry infused balsamic vinegar
Directions: 
1. Preheat oven to 350 degrees. Lightly grease a 24 count mini muffin pan with nonstick cooking spray.
2. In a large bowl, whisk together the flour, sugar, making powder, and salt. 
3. In a small bowl, whisk together the olive oil, egg, vanilla extract, and the yogurt. Add the yogurt mixture to the flour mixture and stir until combined. Fold in the blueberries. 
4. Scoop batter evenly into prepared muffin pan, filling each cup until almost full. Bake for 15 minutes or until they just start to turn brown on top. 
5. Remove the fritters from the oven and turn the broiler on HIGH. Line a baking sheet with parchment paper and transfer the fritters to the baking sheet. 
6. In a small bowl, whisk together the powdered sugar, milk, and blueberry jam until smooth. 
7. One fritter at a time, dip the top into the glaze and sit it upright back on the baking sheet.
8.Once all fritters have been dipped, place them back in the oven and let broil for 3-4 minutes. Once the fritters start to brown, remove them from the oven. 
9. Brush remaining glaze over the top of the fritters and let them cool for 15 minutes. 
10. Serve with your favorite cup of coffee and ENJOY!