Spice it Up!
Spice it Up!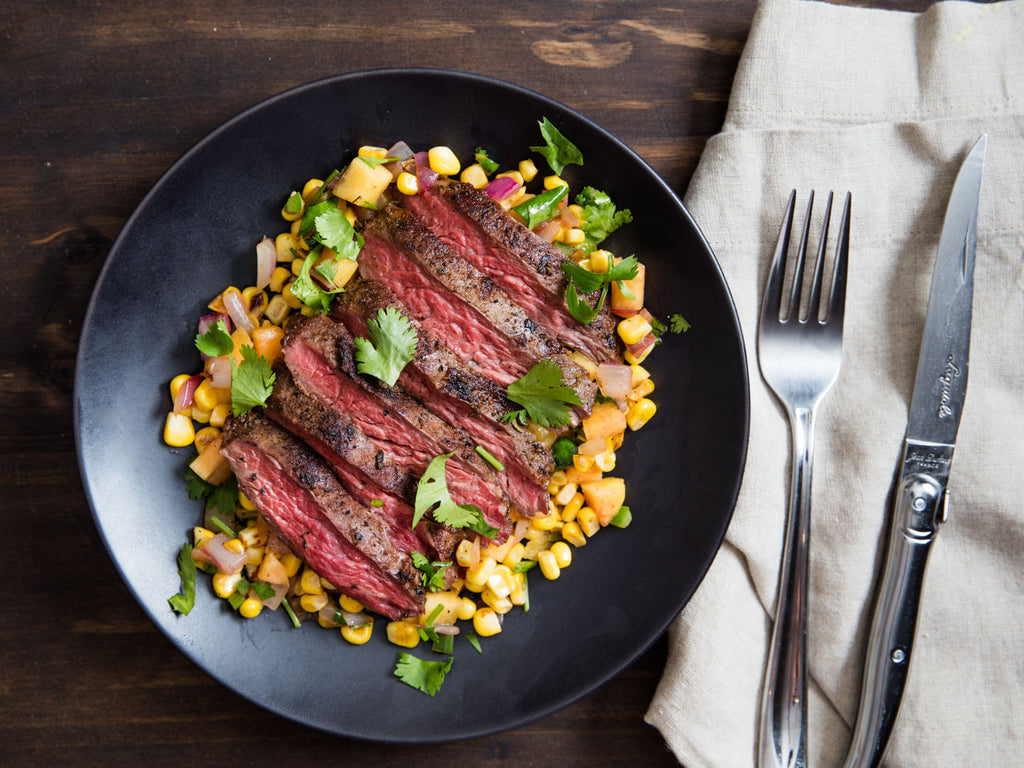 Spice up your week with one of our original EvilO recipes: Seared Spiced Steak with Crispy potato hash.
Ingredients:
24 Oz Sirloin Steak
2 Medium Yellow Onions
2 Ears of Corn
(If you are a busy chef with limited time substitute the ears of corn for a 12 Oz bag of frozen, or a standard can of corn)
24 Oz Russet Potatoes
2 Poblano Peppers
1 Bunch of Cilantro
1 Can Chipotle in Adobo
4 TBL Sour Cream
2 TBL Beef Stock Concentrate
1 Large Clove of Fresh Garlic
2 TBL EvilO's Garlic Mushroom EVOO
2 TBL Spice Lab Ancho Chile & Coffee Meat Rub
1 TBL EvilO's Garlic Cilantro Balsamic Vinegar
 Prep Time: 40 Minutes        Serves 3 
Preheat oven to 400 degrees. Halve, peel, and thinly slice half of the onion. Finely dice the remaining half of the onion. Core, seed, and remove ribs of the poblano, slice thinly. Wash potatoes, peel and cut into ½ inch cubes. Cut corn off of the cob, or substitute with frozen or canned. Mince cilantro, garlic clove, and two chipotle peppers from can. Save the rest of the chipotle peppers for another day.
Toss potatoes onto baking sheet with 1 Tablespoon of Garlic Mushroom oil. Season to taste with salt and pepper. Place in oven for 20-25 minutes or until golden brown and crispy.
While the potatoes cook heat up ½ Tablespoon of Garlic Mushroom oil in a large pan on medium heat. Add the sliced onion and poblano peppers to the pan and cook until softened and lightly caramelized about 7-8 minutes. Now add corn to the pan cook for another 3-4 minutes (if using frozen cook you may have to add 1-2 additional minutes) , season to taste with salt and pepper then set aside in -a medium bowl, cover and keep warm.
In the same pan heat remaining Garlic Mushroom oil on medium high heat. Season steak generously on all sides with Spice Lab Ancho Chili & Coffee meat rub. Add steak to pan and sear each side for 3-4 minutes. Then place steak on the same baking sheet as the potatoes and return to the oven to finish cooking until desired doneness. 4-7 more minutes. When you have reached your desired doneness set aside and let rest for 5 minutes. This means do not touch the steak, very important to let rest.
Now add the chopped onion to the same pan on medium heat, add oil if necessary. Cook for 3-4 minutes until softened. Add minced garlic, and as much chipotle as you want (more chipotle means more heat!) to the pan and cook until fragrant, about 20 seconds. Stir ½ cup water and beef concentrate into the pan and simmer until thickened and reduced by half. Remove from heat and stir in sour cream. Taste and season with salt and pepper as necessary.
Remove potatoes from oven and add to vegetable hash then toss to mix. While tossing potato hash, drizzle in Garlic & Cilantro Balsamic Vinegar. Thinly slice steak against the grain. Plate the hash, then place sliced steak on bed of hash off center and spoon sauce from pan over steak. Finish with sprinkling of cilantro over entire dish and enjoy!